WCSA's water line projects are crucial for providing access to public service for Washington County residents. These projects are also important for updating existing infrastructure to ensure customers have reliable service for many years to come.
Over the past several years, WCSA has completed numerous water line projects. One of the largest projects undertaken by WCSA is the $30 million Galvanized Line Replacement Project. Phases 1 and 2 were completed in 2013 and 2017, replacing lines in Abingdon, Glade Spring and nearby outlying areas.
Phase 3, the final phase of the project, is currently underway, with seven divisions spread across Washington County. Once completed, the entire project will have directly impacted 40% of WCSA's water customers and indirectly impact many more, improving pressure challenges for approximately 8,000 existing connections, eliminating numerous leak issues, adding more fire hydrants to the system and providing more reliable service.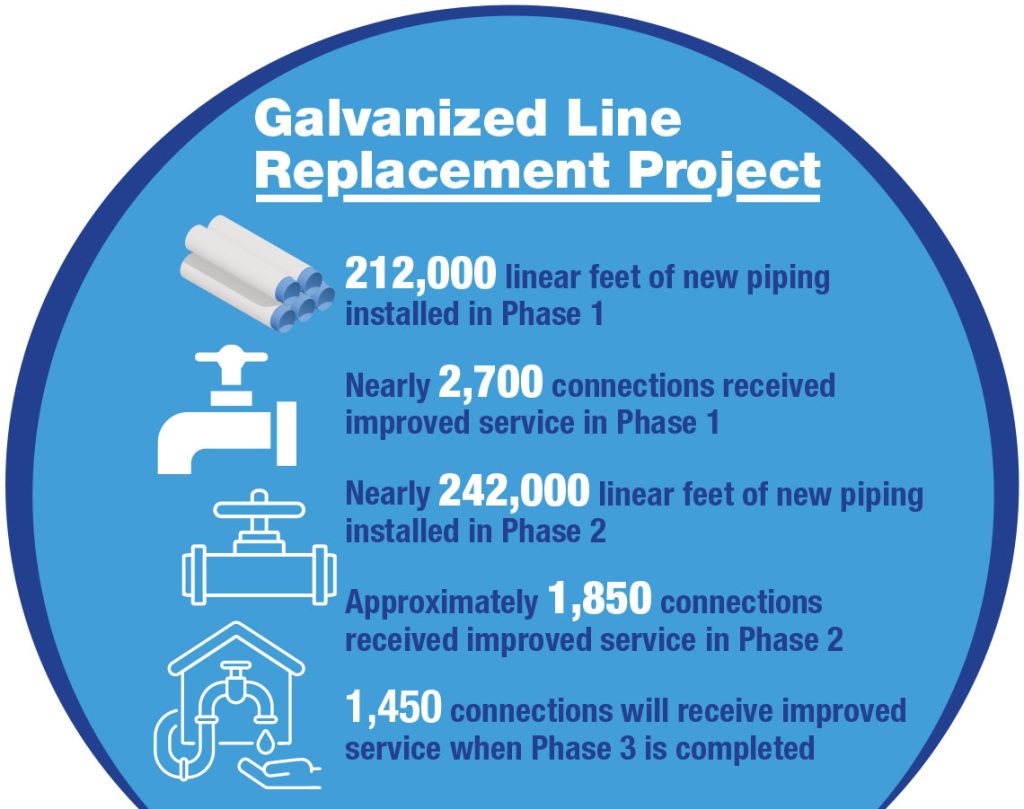 Galvanized Line Replacement Project
212,000 linear feet of new piping installed in Phase 1
Nearly 2,700 connections received improved service in Phase 1
Nearly 242,000 linear feet of new piping installed in Phase 2
Approximately 1,850 connections received improved service in Phase 2
1,450 connections will receive improved service when Phase 3 is completed
So how long does a water project take from start to finish? A water line project doesn't begin when construction starts. It can actually begin several years before any ground is broken.
Here's how the process works:
WCSA is contacted by residents interested in a water line extension to serve their area.
One or more of these residents is assigned the task of project champion to obtain user agreements from other residents in the area.
More than 50% of existing residents are required to sign a user agreement indicating their commitment to purchasing a connection.
WCSA evaluates the user agreements and develops an estimated construction cost, then evaluates the proposed project to determine financial feasibility.
The process up to this point can take up to two years.
Identification and solicitation of project funding is the next step, which can take anywhere from a few months to several years, depending on availability of funding, project cost and additional factors.
Once funded, the project moves into the design stage, then WCSA begins soliciting necessary easements, properties, permits and approvals for the project.
Once this is complete, the project is advertised for construction bids, which are then evaluated.
The process from soliciting funding to evaluating construction bids can take up to two and a half years on average.
Once bids are accepted by WCSA's board of commissioners, construction begins on the project, which can take up to a year to complete.
All told, a project can take several years from the time the first residents approach WCSA about a water line extension to project completion. Some projects take less time to complete, while others can take even longer, depending on their scale and cost.
For more information about bringing public water service to an unserved area of Washington County, please contact WCSA at 276-628-7151 or by emailing at [email protected].